Meiji Strawberry Apollo DIY Chocolate is a delicious and one of its kind make your own kit candy from MEIJI, a Japanese candy company. Meltykiss and Apollo are also from this Japanese candy Giant. The kit contains all the ingredients and moulds you need to create your own very special DIY candy. You just need to mix and match milk and strawberry chocolate flavours in proper proportions to get your desired taste. The instruction page in the box is in Japanese language, but you can do it if you don't understand Japanese at all. There are pictures present in the page demonstrating the procedures for creating your DIY candy.
Box contents in DIY kit to create your own Apollo chocolate Cones
Includes detailed moulds
2 piping chocolates
ball sprinkles
Packet 15cm x 12.5cm.
Best features of the candy
delicious cone-shaped mini chocolates.
Each chocolate has layers of milk chocolate and strawberry chocolate.
Made in Japan by Meiji.
Comes in cute looking dispenser box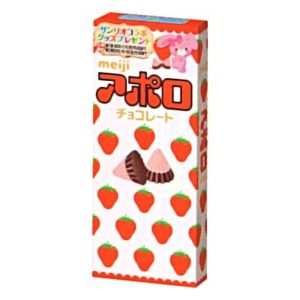 Meiji Strawberry Just play with your candy and make your creativity comes out. It's just crazy, delicious and filled with fun you need to first place the chocolate in a cup of boiling water and wait until it melts properly. Then place the melted chocolate into the mould with mixing and matching both strawberry and milk flavour. Then decorate it with mini colourful balls those come with the packet. Leave it for 30 minutes to set and place it to fridge. Finally you are now finished making your first handmade chocolate treat. Just enjoy with your friend and family.
We at Japan candy ninja are excited to introduce Meiji Strawberry Apollo DIY Chocolate, all the way from Japan to your doorstep. We deliver fun & tasty Japan snacks box and Japan candy boxes directly from Tokyo to your door! We offer free of cost delivery to worldwide on our Japanese snacks box and candy box subscription.