Do you prefer crunchy to soft and savory to sweet?
Pretz may be the Japanese snack for you!
These are delicious crackers but in the shape of a stick.
This makes them easy to eat without making a mess and also allows you to enjoy the flavor for a long time without overeating.
These Pretz snacks could be said to be the savory version of pocky sticks as they are both products of Japan's classic snack company Glico and they are both the same shape. Whether you are a sweet snacker or a savory snacker, Glico has something for you.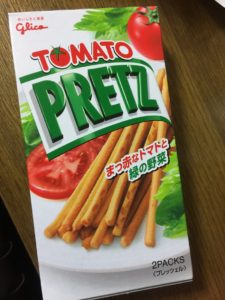 Glico's Pretz snack comes in as many different flavors as the pocky flavors. The most generic is "salad" flavored but you can also find flavors such as tomato (as in picture), cheese, roe and mayo (mentai), and corn and many more! You can also find sweeter varieties such as the roasted Pretz, which has granules of sugar on it, or their butter flavored Pretz.  Recently, in response to the high demand for more natural snack, Glico has created a new variety of Pretz that is free of artificial dyes and scents. They are available in the "salad" and "mild-roast" varieties and contain calcium for extra nutritional value. In addition, when you travel in Japan you will also have the opportunity to enjoy different Pretz only offered in particular areas of Japan. These Pretz will have their flavors determined by what is traditionally produced in that region. For example, Hokkaido is known for its dairy products including butter so in Hokkaido you will be able to buy special butter flavored Pretz. You will also find corn flavored Pretz in Hokkaido. In addition you will be able to find Okonomiyaki flavored Pretz in Osaka and Pollack roe flavored Pretz in Hakata as well as every other type of Pretz in between.
This is a truly classic snack of Japan alongside Glico's Pocky. If you want to try a modern snack that is still very unique to Japan Pocky and Pretz is the sweet and savory combination that you will not want to miss out on!