Though the sakura (cherry blossom) season is over, this is a sakura season treat to look forward to every year! Now the sakura blossoms (cherry blossoms) have completely fallen from the trees and it is time to miss not only the Sakura blossoms but also the Sakura shower that came after! You are likely enjoying the bright green leaves filling in the trees, which is a whole other type of beauty to enjoy after the sakura flower show is all gone.
However, there are certain delicious treats you must learn to love while they are available during this already wonderful season and Sakura Mochi is one of them! This sticky ball of sweetened rice is covered by a salted sakura (or cherry tree) leaf to give you the perfect combination of sweet and savory. The rice is not quite as smooth as most rice treats you will find in Japan. However, this does make the sticky mochi rice cake easier to take a bite out of and adds another delightful aspect of texture to be enjoyed. Not only is the taste contrast of the rice cake and the leaf of sweet and savory marvelous, but also the combination of the crisp sakura leaf with the sticky mochi rice cake is also perfect.
Many of traditional Japanese sweets use rice as the main ingredient. In addition, Japan has a talent for making sweets that are also savory. Sakuramochi (as pictured below) is a great example of both of these talents alongside "Mitarashi dango", which is small rice cakes balls flavored with a sweet and savory soy sauce based sauce that is absolutely delightful. We will likely share more about "Mitarashi dango" in a future post but for now let's return to the topic of delightful sakura mochi. Sakura mochi is not only delicious but also delightful looking as you can see in the photo below. This is a seasonal representative for the deliciousness of Japanese traditional sweets. Enjoy sakura mochi over tea with friends or best of all under the cherry blossoms!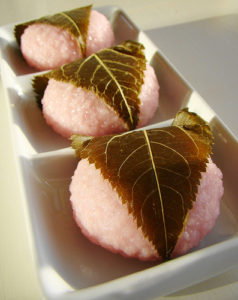 http://free-photo.net/archive/entry6183.html