Milky is a toffee like Japanese candy made of milk and originating in the most Northern prefecture of Japan, which is Hokkaido. Hokkaido is by far the number one producer of dairy in Japan. This is why it should come no surprise to us that Hokkaido is the birthplace to many well known varieties of sweets. These included those such as Ishiya's "iGateau" and Snaffles' "Cheese Omelette".
Milky is a caramel created out of condensed milk that has a history of over 60 years in Japan. These candies that certainly have not lost any popularity allow one to enjoy a second of hard candy that then melts in your mouth into you a creamy yet chewy consistency.  Whether you enjoy hard, creamy or chewy, milky is for you!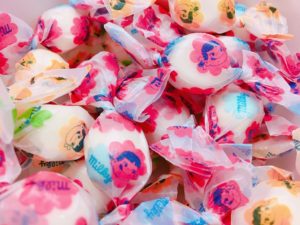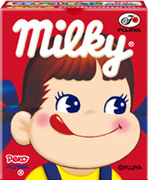 The character on the milk candy is the mascot for all of Fujiya. However, originally she was mainly on the new candy "Milky" launched in 1951. Milky is only one of Fujiya's now nationwide collection that include other candies as well as a chain of cake shops. She was created just one year before the launch of the Milky candy and is now loved by everyone and can even be seen decorating certain stationary items sold in Japan.
One more wonderful thing about the Japanese milk candy is that although they can be found in any grocery store alongside all the other candies, they contain no extra perfumes or pigments. The ingredients of these Japanese milk balls of delightful chewiness include the best cream of Japan, Hokkaido cream, and the best water of Japan, mineral water from Mt. Fuji. Through these you can enjoy truly Japanese deliciousness. Also they also are sold at the same reasonable prices as your favorite candies.
写真URL:
https://pics.prcm.jp/14be12aeb8504/68326789/jpeg/68326789.jpeg
https://fujiya-milky.com/products/index.html